A new artwork featuring a diving board could soon grace the banks of the Avon River opposite the Antigua Boatsheds.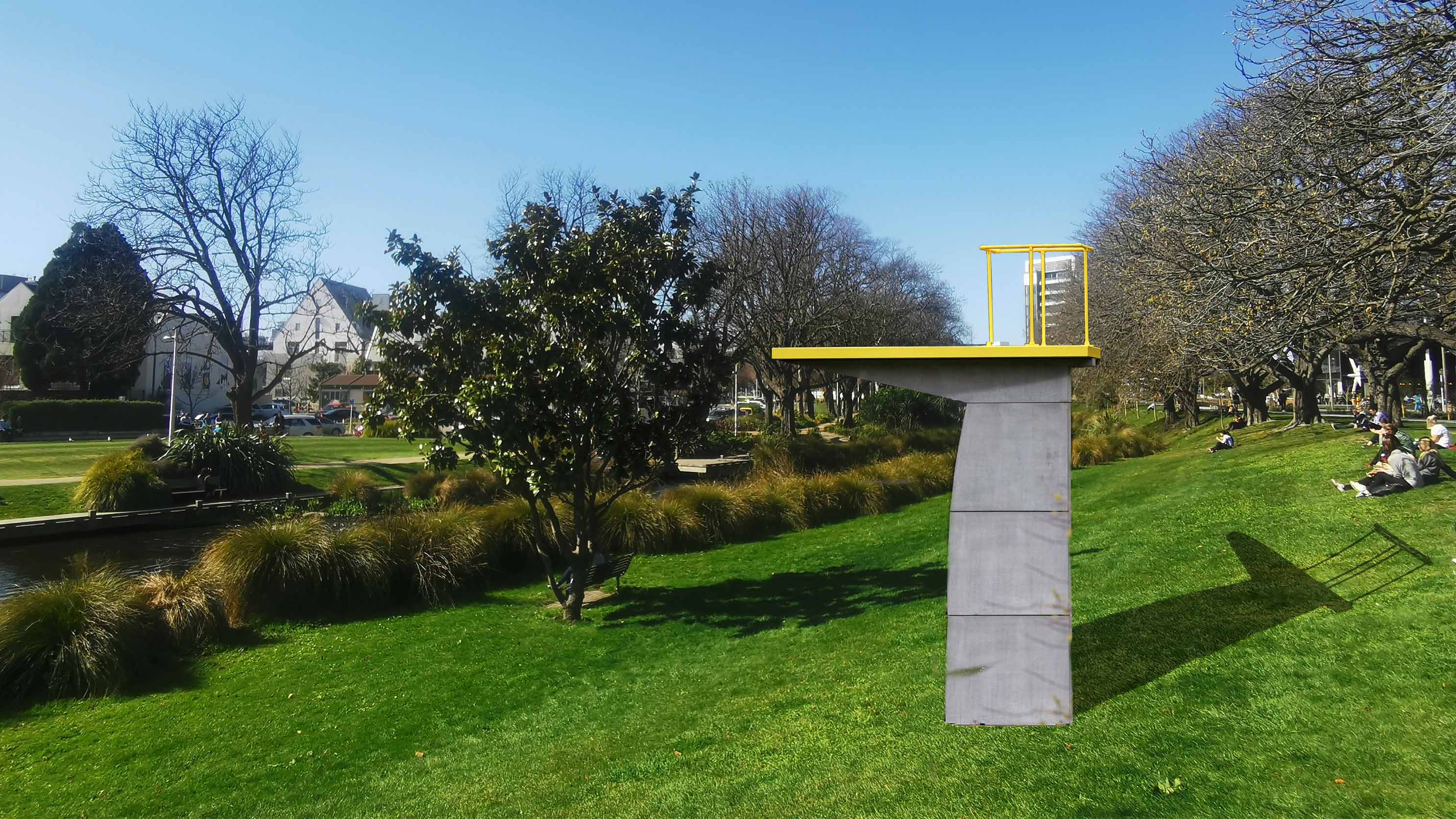 A Christchurch City Council Committee will decide next week whether Natalie Guy's The Pool should be permanently installed on the Oxford Tce riverbank in central Christchurch.
The location was chosen because it is an open space away from trees and has clear visibility from all directions.
The artwork, which is 3 metres high, is being gifted by SCAPE Public Art Trust and funded by Ōtākaro Ltd.
Funding will include the purchase and installation of the artwork, which was exhibited at a different site as part of the 2019 SCAPE public art season, as well as 12 months of maintenance costs.
Ōtākaro Ltd is providing $200,000 to SCAPE for the installation of two public art pieces in the Ōtākaro Avon River precinct. The second one is being commissioned and hasn't been finalised yet.
Guy is a New Zealand artist who creates objects that mine or manipulate pre-existing imagery from art and history.
Removed from a poolside location and without stairs, the diving board in The Pool becomes a "surreal, redundant and inaccessible object", she says.
The artwork makes reference to British artist David Hockney's work as well as the modernist work of British architect Jane Drew.
The Council's Sustainability and Community Resilience Committee will decide at a meeting next Thursday whether The Pool should be permanently installed on the riverbank site.
Read the Committee report on The Pool.
It will also make a decision on whether to retain Nathan Pohio's Raise the Anchor as a permanent artwork in Little Hagley Park on Harper Ave.
The historic image, sourced from a 1905 edition of The Canterbury Times, was installed as part of the SCAPE Public Art Trust's 2018 season, and then extended until December 2019.
It depicts Māori leaders on horseback wearing ceremonial dress with korowai and kākahu, flanking Lord and Lady Plunket in their car on a visit to Kaiapoi.
SCAPE has offered to keep maintaining the artwork, which is lit at night and visible to motorists, for another year if the Council agrees to it remaining in the current location.
Pohio is a Christchurch-based artist who works in video and other photo media. He has exhibited nationally and internationally and his work combines Ngāi Tahu and contemporary Māori society histories with cinema history.
Read the report on the Raise the Anchor.


More from the Council source here