Dip into history and find out more about a range of cultures at the upcoming Christchurch Heritage Festival.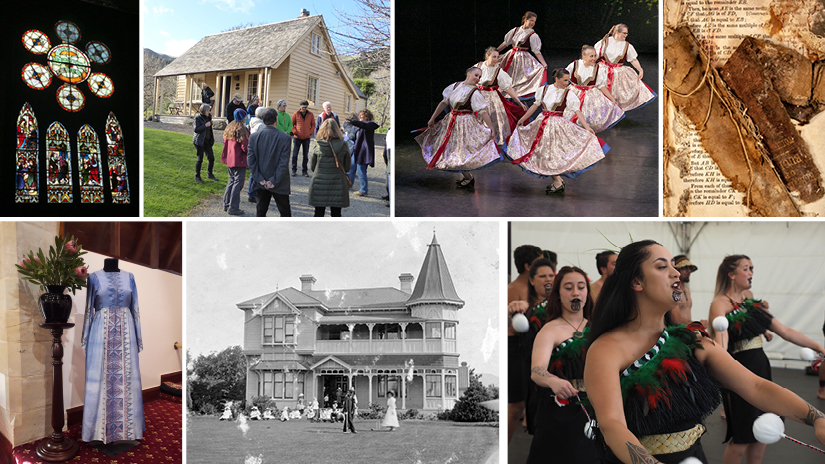 This year's celebration starts on Saturday 24 October with more than 50 events and activities that invite people to explore Christchurch and Banks Peninsula's past and gain a better understanding of its present. 
Open days, walking tours, workshops, talks, exhibitions and cultural performances are some of what's on the programme until the festival wraps up on Sunday 8 November.
The theme for the Christchurch Heritage Festival 2020 is Encounter our Stories – arts, culture and identity. Christchurch City Council Head of Urban Design, Regeneration and Heritage Carolyn Ingles says several events highlight the diverse cultures that contribute to the identity of the city and Banks Peninsula.
"The Super 15 Kapahaka Competition for 2020 is being held during the festival and it's an amazing opportunity to enjoy and share Māori culture at the Isaac Theatre Royal on November 6.
"There's also a Polish Folk Day on 7 November at Te Hapua: Halswell Centre with performances of traditional music and folk dances.
"The screening of Overcoming Fate on 3 November tells the story of orphaned Polish children invited to come to New Zealand in 1944. They became known as the Pahiatua Children, and the Polish community in Christchurch is part of their legacy."
One of the anniversaries marked during the festival is 150 years since the opening of the Canterbury Museum on Rolleston Avenue.
An exhibition, House of Treasures: Ngā Taonga Tuku Iho, curated by the Museum and featuring iconic objects from its collection, is tied to a new book released for the anniversary called House of Treasures: 150 Objects from Canterbury Museum Ngā Taonga Tuku Iho.
The Air Force Museum of New Zealand is showing a new photographic exhibition called Victory commemorating 75 years since the end of World War II in Europe and the Pacific.
The 25-year milestone since the Christchurch Tram started running in the central city will be celebrated on Labour Day, 26 October, with adult tickets  discounted 25 per cent (children will ride free) and giveaways. 
A Lyttelton Library display called Sifting the Ashes will run at the library from 20 October to 14 November, to remember 150 years since the Great Fire of Lyttelton on October 24, 1870. 
Other festival events include:
The Orton Bradley Park Spring Fair on 25 October is one of the biggest outdoor events planned.
Christchurch City Libraries are inviting local people to share photos from their family archives in the Christchurch Photo Hunt 2020 so they can be uploaded to the Discovery Wall at Tūranga (Central Library). Photos can be dropped off at any library branch, submitted online, or uploaded at DiscoveryWall.nz. 
 The Art of Archaeology is an exhibition of unique archaeological artefacts uncovered at the Arts Centre during the last nine years of the restoration project. They'll be on show in the Boys' High Building from 24 October until 8 November. 


More from the Council source here