If you're staying local this summer, take the kids on an adventure to check out some of Christchurch's best neighbourhood playgrounds.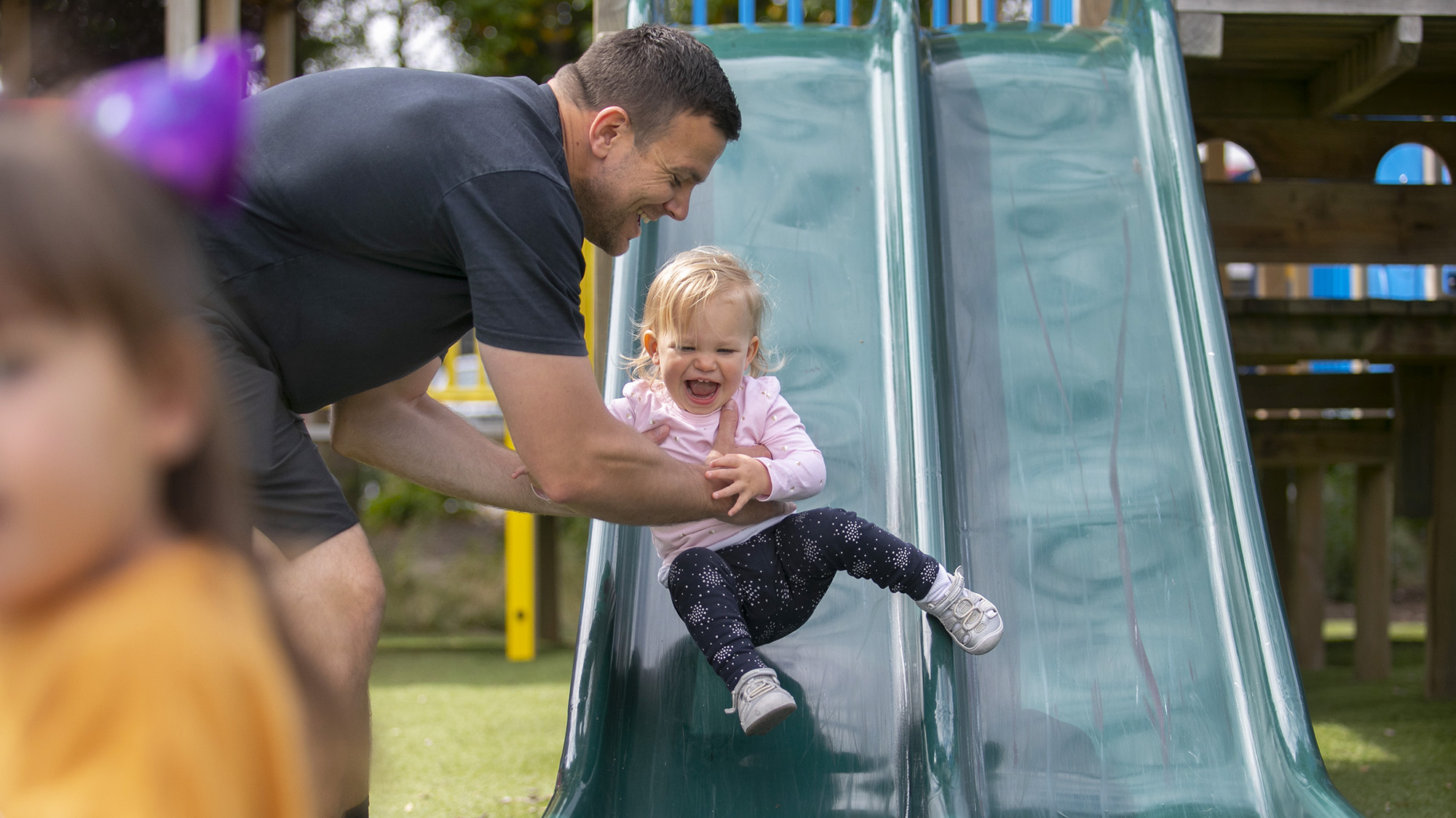 Our city is home to nearly 400 playgrounds. They come in different shapes and sizes – some are known for their impressive slides, while others win points for their aesthetic surroundings. 
If you have a toddler on  your hands, you probably don't have a lot of time for research, so we've whittled down the list to bring you the top 5 playgrounds for pre-schoolers.  
1. Barrington Park Playground
Make sure you add Barrington Park Playground to your staycation itinerary. This impressive play space features a sandpit with a crane and conveyer belt. It's perfect for messy play and a great way for your child to engage their senses.
The playground underwent a major upgrade in 2018. The ramps are wheelchair friendly. They're also big enough for you to join in on the fun, so it's great for younger toddlers who need a little extra supervision. At the top of one ramp you'll find a keyboard that makes piano sounds. Kids can also create the sound of a rainstorm by spinning a wheel. 
There's also swings, a sea saw and heaps of climbing opportunities, including a big boulder with a cave through the middle. Look closely and you'll find pictures of starfish etched out in the stone.
Getting there: Barrington Park Playground is located beside Barrington Mall. There is parking alongside Barrington Street. There are also bike stands if you plan on cycling. 
Toilets and other amenities: Spreydon library is right next door. There is a park toilet beside Spreydon Library, a drinking fountain, and heaps of seating around the play area.
2. Edgar MacIntosh Park
Don't forget to pack togs! Edgar MacIntosh Park's paddling pool is perfect on a hot day. It's shallow, so it's ideal for pre-schoolers to splash about.
The neighbouring playground has a roundabout, see saw, swings and a slide.
There's also plenty of green space to run around, and if you're planning on staying for a while it's a great spot for a picnic.
Getting there: Park outside the park on Jennifer Street or on Condell Avenue (which is on the opposite side of the park). 
Toilets and other amenities: Toilets are available during the summer months. There is also plenty of seating.
 3. Cashmere Playground
Cashmere Playground is fun and colourful. Watch as your child navigates their way through the maze at the top of the playground. There'll be plenty of giggling as you pop your head over the wall and enjoy a game of peek-a-boo.  There's also swings, two smaller slides, a seesaw and several big spirals that poke out from the ground (perfect for younger pre-schoolers looking to explore).
It's also really spacious, so you don't have to worry about it being too crowded. Bring a picnic rug and enjoy a packed lunch, or make use of the on-site barbecue. 
The playground is completely fenced off from the road, so you can let the kids roam freely.  Afterwards, head across the road and cool off with a real fruit ice-cream from the ice cream cart. You can also wander along the river or visit Ernle Clark Reserve.
Getting there: Park outside the playground on Cashmere Road.
Toilets and other amenities: There's an accessible toilet, a drinking fountain, and seating around the playground. 
4. Bishopdale Park
Known as "Elephant Park" by many in the community, this playground deserves a special mention for its children's slide that sits over the top of a fibreglass elephant.
The playground itself is perfect for under 5's. The climbing platforms aren't too high off the ground and it's complete with all the bells and whistles you'd expect from a top playground, including a flying fox and army-style obstacle course.
The playground isn't fully enclosed but it is fenced at the roadside. It adjoins large sport fields so there's heaps of room to explore. The surrounding trees provide welcoming shade on hot summer days.
Getting there: Park outside the park on Leacroft Street. 
Toilets and other amenities: There are toilets, a drinking fountain, picnic tables, and park benches. 
5. Woodham Park
Linwood's Woodham Park is stunning at this time of year. The children's playground sits amongst a backdrop of mature trees, providing much-needed shelter on hot, sunny days. Key features include a multi-play structure, sea saws and swings.
There's also a bird aviary on site, giving this playground a point of difference. 
Don't forget to bring togs for the paddling pool. If the kids are getting a little cranky in the heat, it's a great place to take them to cool off!
Getting there: Park outside the park on Woodham Road
Toilets and other amenities: There are toilets, a drinking fountain, and seating is available.


More from the Council source here