*** Read the bottom for latest updates***
Why is it that when the price of oil goes up by a small fraction the price at the pump goes up instantly. But when it goes down it seems to take forever for just a slight correction at the pump occur. And then you hear about the fuel companies boasting record profits. Is it to me that in this time if economic hard times they are the only business that's actually creaming it?
This is an article that was published in England on the sky news page. The start of it goes
"BP announced first quarter profits of £3.32bn – a 48% leap – while Royal Dutch Shell revealed a 12% rise to £3.92bn.
The figures have been buoyed by rising oil prices and come at a time when motorists are paying on average almost £5 a gallon at the petrol forecourt.
Crude oil prices have reached an all-time high of around £60 a barrel."

To me this just does not seem right. Now I did a little digging and found some interesting things about theprice of crude oil vs the price of petrol at the pump for us here in New Zealand.
The price of crude oil today is at the same levels it was in May this year. At approx $110 USD per barrel of crude. Which during may translated to pump prices for 91 Octane Fuel to be $1.55 per liter. But what is the level of fuel prices today. They are at a whopping $1.99 per litre. This is a huge .44c more per litre for the same level. How does that work??? Now fuel companies dropped the price of gas at the pumps to that level three weeks ago, when the price of crude per barrel was USD $120+. And it has dropped a further $10 since then. So someone is creaming it…
Also what I wonder about is at its peak Crude oil peaked at $146 USD per barrel which translated to 91 octane fuel being its most expensive here July 7th 2008 at $2.189. Now I worked out taking into account exchange rates and everything else that at this peak time a barrel was approx NZ $ 195. Now if I use the same thinking and translate to what a barrel of crude oil costs now it will be NZ $150. (Remember that exchange rates are taken into account as our dollar has slipped againt the American over this time). But if I take this and compare our price at the pump today it should be approx $1.67 per litre of 91 octane. Now that's some massive 32 cents from where it is today. Don't call me smart but something doesn't sound right.
Now I know there are many factors that must be taken into account here but a varience of 32 cents and then you hear things like the oil companies are making record profits. This actually really makes me cross.
I don't mean to sound like I am complaining but I think we all as New Zealanders need to know the truth about the fuel prices. There is all this fuss about How the Real Estate market needs to be more transparent. But HELLO!! Its like pretty straight forward I would have thought. The real transparency needs to be in our fuel prices which effect the day to day running of our lives for everyone in more ways than just our personal cars.
I think there needs to be someone paying closer attention to  the price of our fuel at the pumps because I believe we  are all been totally ripped off every single time we go to fill up. But its not just the price of fuel that affects us. Its almost everything. And at a time where money is quite tight the last thing we need is to taken for a joy ride by greedy rich petrol companies!!
UPDATE 16/9/08
this post has recieved thousands of hit since being put up. People must be interested and concerned.
Alonside here I have posted a picture of the latest monthly graph. which shows crude oil at just over 90 USD. Along with that Our New Zealand Dolllar is suffering dropping down to .657 USD this partly due to the drop in our OCR drop and also the strong US Dollar but after the Lehman Bros collapse this may be under threat. Meaning the price of fuel at the pump should be approx 1.53 or something around that. Not 1.97 still!!
Leave a comment if your concerned with the pertrol price at our pump being over the top still..
UPDATE: 19/09/2008
Price of 91 Octane fuel down 6c/l to $1.939
UPDATE 16/10/2008
Price of crude oil in US Dollars is now at $71.50
New Zealand Dollar is at 60.3c against the US Dollar.
Therefore crude is $118.573 NZD per barrel.
Now if using the same logic petrol (91 octane) should be approx $1.39 NZD which is far from the current $1.87 it currently is. Its 48 cents difference per every litre. WOW!!
The first picture on the right in this update is from july 16th 2008 and it shows that the crude price has been falling pretty much the entire 3 months. The one below that is the last years graph which shows clearly the peak and then the drop back. The price of oil is now lower than its been for over a year.
Just after I wrote this I wrote in to the New Zealand Herald and this was their response. Click the link….
Hopefully this puts pressure on the fuel companies.
UPDATE 13/11/2008
Price of crude oil $59USD
NZ Dollar to the US is .59c
Crude barrell price in NZD is $100
Price at the pump if using same methods is approx $1.22 for 91even with the exchange rate the way it is. But 91 octane is still as high as 1.57 in many places.  thats a 30c gap still!
UPDATE: 21/11/2008
For the first time in 4 years crude oil is under $50USD per barrel. WOW!
This is huge news and is a true telling sign at how much confidence there is in the world economy. But on the flip side to this the New Zealand Dollar continues to fall and is now at .51c againt the US. the price of fuel has come right back to approx $1.46 in most areas for 91. This makes it alot more affordable.
Barrel Price is now in NZD $96 Which means the price of fuel to be approx if following the trend should be approx 1.18c which is still .30c more than it is now.

UPDATE 24/12/2008
Price of crude Oil Down to a staggering 39USD a barrel.
New Zealand Dollar risen a little against the US to .56c
Price per barrel in NZD is now only $70.

This would mean if using the same calculation the price of fuel for 91 at the pump should be approx .96c which is .43c off the price it is at the pump now of $1.39.
Update 24/1/2009
Well one month on from the last update and there has been some large movement in the price of petrol. But only petrol. Diesel has stayed the same price at around $1 per litre but petrol in the last week has jumped up .20c
The cause for this is the small spike in crude oil prices and the drastic drop in our New Zealand dollar after figures were released stating that our business confidence is at a 30 year low. So the dollar tumbled. But looking at the figures now crude oil will cost in NZD $79 which is a big jump. But not one to justify a almost instant .20c increase in petrol prices. Petrol Price in my jusdgement should be approximately $1.07 per liter. About where diesel is at the moment.
Update 1/2/2009
Price of crude oil is still falling now at $42 a barrel. But with the latest OCR drop by the RSBNZ on Jan 29th the New Zealand Dollar fell about 2c to where it closed for the weekend at .5052 And this has seen a futher 10c jump in the petrol price, where diesel is still $1.03 per liter.
If I work off the same principle going back to October 2007 when fuel was increasing fast I can figure out how much a liter should cost at the moment in todays prices. Crude oil would cost $84NZD which is a slight increase from the last update because of our dollar dropping so much. But its only a small increase. The cost of fuel (91 octane) at the pump should be only at about $1.24NZD which is over 40c off where it is today. So where is it all going wrong???
UPDATE 10/2/2009
When the value of out dollar dropped and the price of crude oil slided 2 weeks ago we saw an instant price increase by the fuel companies. They put their price up by 30c on petrol in almost a week. As of today the price of crude is $39 per barrel. And the New Zealand Dollar has gained great ground with jumping up to about .54c against the US. This means a barrel of crude would cost approx $72USD which is considerably less than it was last week.
In saying that using the same logic as before fuel prices should be back around the $1.11 mark. A marked difference which is less than last week.
UPDATE 14/03/2009
Two days ago we saw the price of petrol 91 octane come down to 1.589 per liter. This 5 cent drop is a great help for many as money is starting to become tight as the financial crisis around the world is starting to take full grip in New Zealand. In the last month our dollar has dropped a fair against the USD but has recovered from the lowest points which went down to under .50USD.
Currently our dollar is at .5247USD and the price of crude oil is sitting at just on 45USD a barrel. As you can see from the graph to the side the price has been increasing slowing over the last month. This means though that the price of crude to by in NZD is 85.78
If I use the same calculation from the past 18 months I believe the price should be around 1.32 per liter.This is 20 cents more than a month ago.
The strange thing is that the price of crude oil etc is costing more as the dollar drops and the oil increases but as I said right at the start the price of fuel actually come down. I cant figure it out at how they work it.
Update 7th April 2009
Crude oil price is $51.2USD a barrell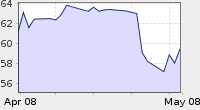 New Zealand dollar has climbed to a respectable .587USD
A barell of crude oil in New Zealand Dollars costs $NZ87.2 per barrell.
Cost per liter in my view would then come around to NZ$1.34.
Not alot of change in the last month as you can see. The Value of our New Zealand Dollar has offset any of the change seen in the price of the crude oil. But as you can see there is still a 20c difference from what it is now. It is although good to see this margin dropping slowly. 6 months ago using the same calculation there was over a 50c difference. But there is still some way to go before consumers in my view are getting a fair deal.
Update 1/5/2009
Petrol prices in New Zealand have dropped 5c a litre to $1.539
The official reason by the oil companies are
BP spokeswoman said it had been 49 days since the price of petrol last went down.
Caltex spokeswoman Sharon Buckland said for a while the international prices of fuel had been dropping but the weak Kiwi exchange rate prevented a drop in pump prices.


49 Days ago if you look at our New Zealand Dollar was at its lowest point at .49USD and this was approx when the price of petrol last dropped. If you read above, according to the Clatex person the reason that petrol hasnt dropped in that amount of time is because of the exchange rate. But this has been steadily climbing for over a month and has now dropped off to about .575USD
If you look at the other picture to the right you can clearly see that the Price of crude oil has remained fairly steady over the past month and only slightly increasing over the 3 month period the picture shows.
The price of crude oil now is at 51.5USD a barrel or 89NZD which is slightly more than earlier in the month.
If I continue on my predictions the price  for 91 Octane fuel should be only $1.37NZD.
So I dont buy the reason why the price has only come down now, I think they have been holding onto their high prices and raking in profits for charging more than they should be.
Update 1/6/2009
Over the last month we have seen the price of fuel in New Zealand rise by 10 cents a liter and is now $1.63 per liter of 91 Octane fuel.
This is on the back of increasing crude oil prices which is has now been slowly increasing for about 5 months now. And I dont think its going to get any cheaper any time soon eigther. The reason is below in this update.
Price of crude oil in USD is $66.64

Our New Zealand Dollar is at .6382
Crude oil in NZD will now cost $104.5 NZD
This would mean that the price of crude oil if I continue with my calculations would be $1.60 This is only a .03c difference now. There has usually been a difference. This difference has slowly been coming down though. if you look back to earlier this year the difference was around .40c to last month when it was about .17c and to now where its only .03c
Watch out people I have a feeling fuel prices are about to jump probably another .10c a liter in the next week or so.
Here is an article that I do think that you will find very interesting. I think I am going to have to sell my BMW M5 soon and buy another car. Trade down from a 4.8L V8 to a straight 6 or something because it is going to get expensive as soon as the economy turns around a little bit.
Also could be a good time to invest in oil shares.
Read This
It took only 5 months for the price of oil to plummet from $150 to under $40 in the second part of the year. Meanwhile oil consumption did not even decrease 10%, so what is the real cause of this collapse you may ask?
Hedge funds. Let me explain.
During the first part of 2008, Western economies were already slowing down noticeably and hedge funds gradually pulled trillions of dollars out of the market and parked them in energy ETFs. At the time Chindia's insatiable thirst for oil and the "decoupling" of east/west economies had many believe commodities were a "sure thing", a sound enough tangible insurance to protect overinflated assets scavenged from made-up bubbles. On top of that, by using leverage, profits were multiplied as oil went up, not a bad deal in a recession.
But when the banking industry collapsed, hedge funds had to raise cash by "deleveraging", liquidating their leveraged energy ETF positions sending the price of oil tumbling. Anecdotally shorting of banking ETFs was suspended by the US Securities Commission during that time but not shorting of energy prices, and the leverage mania soon found an escape route in utrashort oil ETFs, compounding the speed of this downward spiral. By December 2008 the oil price had collapsed 75% and frankly, who would complain about cheap gas these days?
As we enter 2009 the oil landscape has reversed dramatically from a year ago. The price of oil is lower than production costs and new exploration projects are being cancelled. China flush with cash is currently buying all the oil it can get its hands on to pump into its strategic reserves. Once arrogant OPEC countries are willing to sell oil at any price to fund government programs and prevent political instability.
One constant however is the depletion of major oil fields, worse than predicted at 9.1% year over year as we close 2008. It's a matter of when not if the economy recovers and when it does, expect a strong bounce back in the price of oil.



Update 25/7/2009



The last 6 weeks have seen the price of crude oil drop and the NZD increase. This has been replicated at the pumps with fuel dropping over 10c a litre which is now sitting at $1.589 for 91 unleaded fuel in most places.
Crude Oil is $68USD and the NZD is at .6567 USD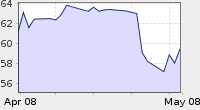 Crude Oil in NZD is $103.5
By my calculations the price of fuel should be approx $$1.584
This is actually the first time that it has been about on the mark. The last 6 weeks has seen the price of fuel dip a little more and our dollar a little stronger so three weeks ago the fuel price should have beenabout $1.50 per litre of 91 but where it sits today the price is about spot on to where it was two years ago. Its about time that it was tho!