The fire that destroyed the two trickling filters and parts of an air extraction system at the Christchurch Wastewater Treatment Plant in Bromley has been extinguished.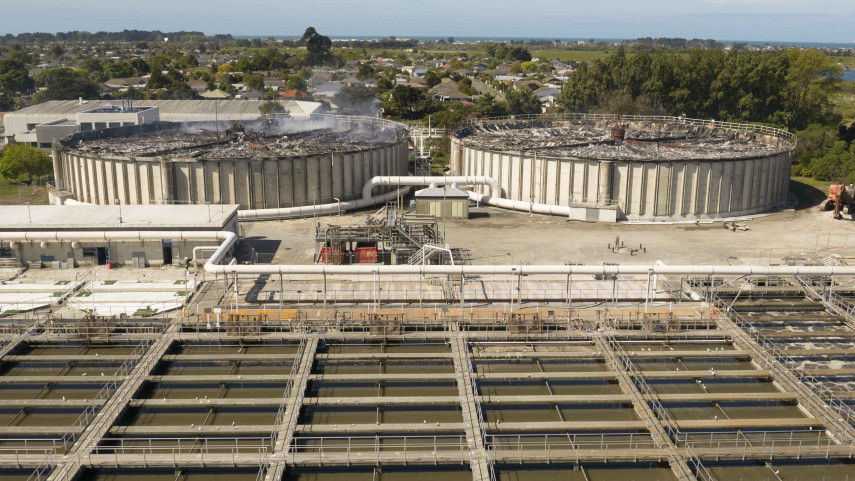 The odours from the burnt filter material and the disruption to the wastewater treatment process are expected to steadily reduce over the coming weeks.
Christchurch City Council Head of Three Waters and Waste Helen Beaumont says all surface hotspots from the November 1 blaze appear to have been put out, but water misters will continue to be used to suppress any smell.
"There was a significant odour increase as a result of the fire and subsequent breakdown of parts of the treatment process.  In response, the Council's wastewater team has made changes to the operation of the plant to compensate for the loss of the trickling filters, improve the quality of the wastewater passing into the ponds and to reduce the potential for odours," says Ms Beaumont.
"We've increased aeration in the secondary contact tanks by 200 per cent to partially undertake the work done previously by the trickling filters. We have also increased the capacity and contact time in these tanks to maximise effectiveness."
Poly aluminium chloride is also being added to the wastewater at two key points in the process.
"This 'poly-dosing' settles more of the suspended solids and reduces the organic loading of the supernatant wastewater – the clear liquid from the top – that now bypasses the trickling filters and goes on to the secondary contact tanks."
Some of the biosolids, a by-product of wastewater treatment, which have been affected by the fire, have been diverted to landfill due to traces of plastic and fibreglass being present.
The team is also adding hydrogen peroxide – a compound that naturally breaks down into water and oxygen – to the wastewater before it's discharged into the oxidation ponds.
The first of a number of surface aerators are scheduled to be installed in the ponds from next week, which will hopefully remove the need to keep using hydrogen peroxide.
"All of these measures have made a significant difference to the unusually high level of odour coming from the wastewater plant in the days following the fire. We're confident the smells coming from the site will continue to decrease," says Ms Beaumont.
Ms Beaumont says the fire investigation is continuing and a full damage assessment will not be able to happen until the material within the trickling filters, which is several metres deep, has been removed.


More from the Council source here