Ok. There has been a lot of fuss about Twitter over the last few days flowing around the Real Estate realm. There has been talk about it on the real estate.co.nz forum where a number of very smart real estate agents are starting to pick up on how it can be used for benefits of their business People such as Sharon James, Alistair Helm, Clive Bray, Ross Bradier, Brad Maxwell, Bryan Thompson are just a few that I know that are now starting to use twitter.
Here are some of the recent articles that have been made about twitter.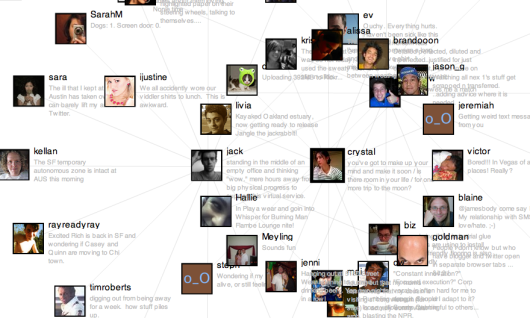 Realestate.co.nz industry website
Propertyadguru website
Business2 website
So what is twitter: Well wikipedia says
Twitter is a social networking and micro-blogging service that enables its users to send and read other users' updates known as tweets. Tweets are text-based posts of up to 140 bytes in length. Updates are displayed on the user's profile page and delivered to other users who have signed up to receive them. Senders can restrict delivery to those in their circle of friends (delivery to everyone being the default). Users can send and receive updates via the Twitter website, SMS, RSS (receive only), or through applications such as Tweetie, Twitterrific, Twitterfon, TweetDeck and Feedalizr. The service is free to use over the web, but using SMS may incur phone services provider fees.
As of March 2009, Twitter has received extensive visibility and popularity worldwide. Twitter is often described as the 'SMS of Internet' in that the site provides the back-end functionality (via its APIs) to other desktop and web-based applications to send and receive short text messages often obscuring the actual website itself. This extensibility of the service has earned it more popularity than it would have garnered if users had to visit the site to use the service.
I have been using Twitter for a while now and have built up a great network on there. My Twitter is Swiggs.
From using twitter I have learnt quite a number of things that the online world want and dont want. I am rated second in New Zealand as a twitter user. I love Twitter. When my job prospects in Real Estate changed I sent a tweet out to my network and instantly there were opportunities coming to me. Twitter is a directly engaging system that means you are in touch and broadcasting to the world and your followers directly and instantly. There are many different ways of using Twitter and here are a number of things listed below.
Personal Branding. Twitter is a social media platform you can use to build your personal brand. It has the primary benefit of developing a casual persona and establishes you as a social personality that is connected and approachable. As Twitter adoption increases, new users will be drawn towards well established Twitter personas.
Get Feedback. Need an alternative perspective on how a website looks or the right course of action to take? Blast out a message asking for advice and you'll receive replies from other users. This collective intelligence can be used as fodder for articles or projects.
Hire People. Need a good logo designer, marketer or programmer? Send out a message asking for recommendations. This is a very quick and easy way to hire freelancers or even companies based on familiar recommendations.
Direct traffic. Twitter can be used to get traffic to your websites or the sites of friends. If you ask your friends to tweet about it, the message will spread faster and further as other active users pick it up. There is a viral nature to all types of news, even on a site like Twitter.
Read News. Twitter users often link to useful sites or articles and can be a source of scoops and alternative news. You can also subscribe to Twitter feeds for specific websites/conferences, which allows you to receive and view content quickly. This is very useful for active social news participants.
Make New Friends. Like any other social network, Twitter has a built-in function for you to befriend and track the messages of other users. This is an easy way for you connect with people outside of your usual circle. Make an effort to add active users you find interesting. A Twitter acquaintance can be developed into a long lasting friendship.
Network for benefits. Twitter can be used as a socializing platform for you to interact with other like-minded people, especially those in the same industry. It can be used to establish consistent and deeper relationships for future benefits such as testimonials or peer recommendations.
Notify Your Customers. Set up a twitter feed for the specific purpose of notifying customers when new products come in. Customers can subscribe via mobile or RSS for instant notification. Twitter can also be used to provide mini-updates for one-on-one clients.
Take Notes. Twitter provides you with an easy way to record important ideas or concepts you want to explore further. Include links relevant to ideas you want to explore. Note taking can also be done offline via mobile applications.
Event Updates. Businesses can use Twitter as a means to inform event participants and latest event happenings/changes. This is a hassle-free way of disseminating information, especially when you don't have the means to set up a direct mobile link between you and the audience
Find Prospects. Twitter can be used as a means to find potential customers or clients online. Do a search for keywords related to your product on a twitter search and then follow users. Tweet about topics parallel to your product and close prospects away from public channels by using direct messages or offline communications. Discretion and skill is needed in this area.
Time Management and Analysis. Twitter can simply be used to keep a detailed record of what you are doing every daily. This might be boring for others but this type of usage is useful when you want to analyze how you spend and manage your time.
As you can see Twitter is a versitile platform that can be used for all sorts of means. Here is a little tip.
Set yourself up an auto responder with your twitter account. I use Socialtoo. This means when someone follows you they get a personal message.. You soon learn what these are and look like because most of the time it reads.
Thanks for following me – now read my ebook or buy my product from this link………. OR
Thanks for following me, now look at my blog at ……………….
I learnt quickly that people hate this and its not a smart thing to do if you want to build the relationships. You dont want to force anything down the reader or followers throat. You should already have the link in your profile where they can look if you strike the right chord with them.
In your response in these situations what people appreciate is acknowledgment that you have followed them. A simple message with NO links in it along the lines of thank you and look forward to coersing with you or something like that is very very powerful. If you do this then you are building that trust relationship with the other person. This is what is key with twitter.
I hope you have fun. Have a look at the users that are using it from the list above and learn from what everyone else has to say.
Deon
Related Blogs