Christchurch has gone through a "hugely difficult decade'' but the city has a bright future ahead says Prime Minister Jacinda Ardern.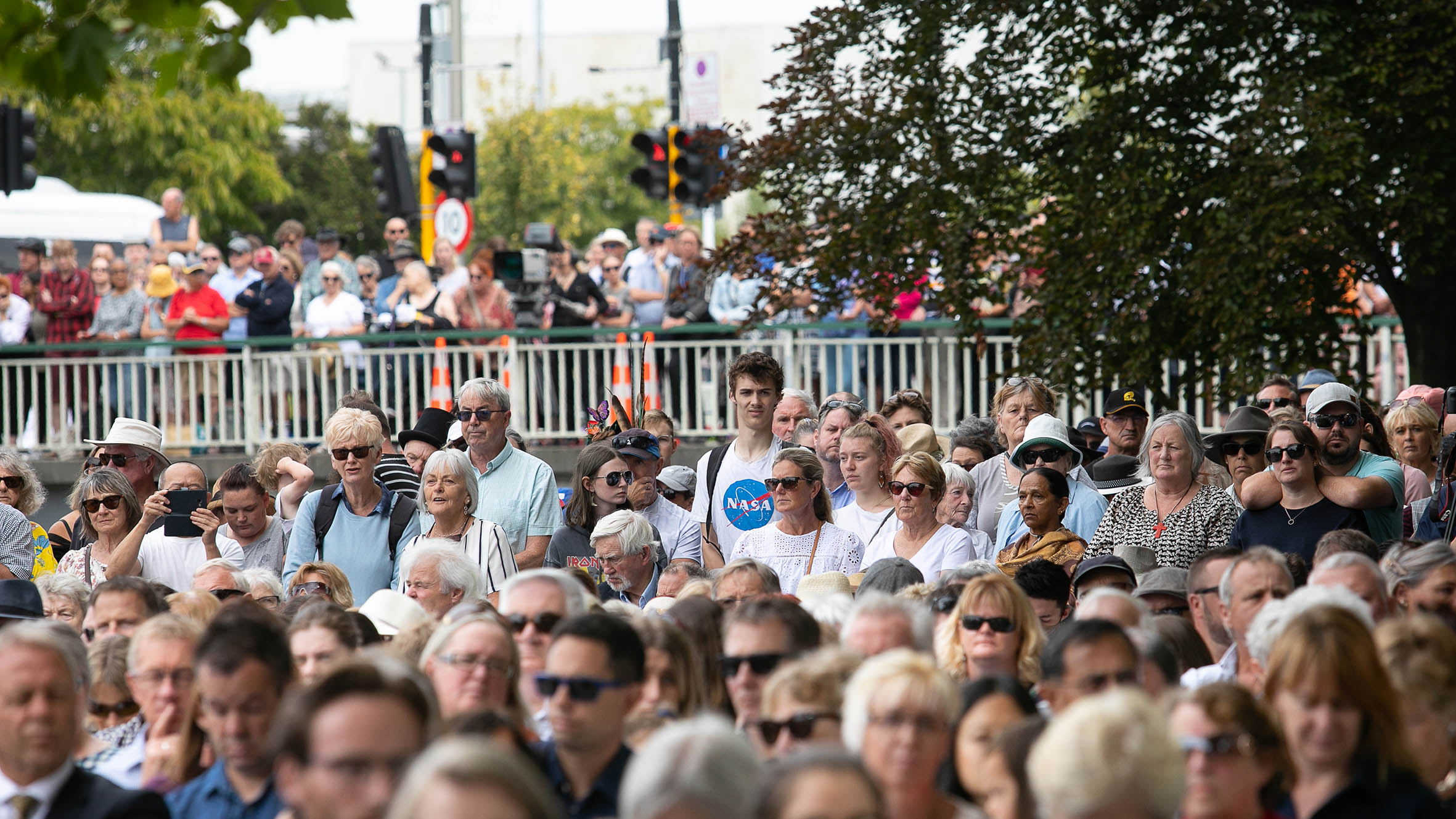 At today's national memorial service to mark the 10th anniversary of the 22 February 2011 earthquake that claimed 185 lives, the Prime Minister spoke of the complex and diverse ways the earthquake and the aftershocks had affected people.
"The toll could not have been more significant, and daily reminders made it harder – a fractured landscape, aftershocks, struggling friends and neighbours, and children with deep and unseen scars. Ten years on there will be people still living their daily lives with the long shadow of that day,'' she acknowledged.
"It's been a hugely difficult decade for this city – at times I'm sure it's felt impossible. But as we look ahead to the coming decade, I see hope and energy and optimism, and I see Christchurch taking its rightful place amongst New Zealand's best and brightest cities,'' Prime Minster Ardern said.
Thousands of people gathered at Oi Manawa Canterbury Earthquake National Memorial for the 45-minute service, which included a minute's silence at 12.51pm – the exact time the earthquake struck. 
Message from Sir Bob
Sir Bob Parker, who was Mayor of Christchurch at the time of the earthquake, described the quake as a 'nightmare' that changed everything and everyone forever.
"For those who were not here at the time, it would be difficult to really understand what we felt, what we shared, what we lost,'' Sir Bob, who has recently suffered a heart attack and a stroke, said in a message that was read out on his behalf by Mayor Lianne Dalziel.
"Those who were here, or whose loved ones were here, share a bond that is impossible to explain beyond this place. So many families still carry the pain of loss. Our thoughts are with you all and we will never forget the mothers, fathers, children and wider whanau that you mourn every day.
"Today we also put our arms around those amongst us who are still carrying injuries and memories that won't go away. So many of you have faced ongoing difficulty and disruption to your lives.
"We also say a heartfelt thank you to all of you who came from throughout New Zealand, from around the world, to help us at our time of need. We will never forget what you did for us,'' Sir Bob said in his message.
Unbreakable bonds
At the start of the service, Mayor Dalziel paid a special acknowledgement to those wanted to be in Christchurch for today's anniversary but who were unable to attend.
"I especially wanted to mention all the Japanese family members who I met last year who so wanted to be here. We are forever connected by this tragedy and we do not forget you even when we are apart. You with are with us in spirit,'' the Mayor said.
Of the 185 people who died in the earthquake, 28 of them were Japanese.
The Mayor said the theme chosen by the Quake Families Trust for today's service was: Te tiro whakamuri kia haere whakamua.
"This whakatauki invites us to walk towards the future with our eyes on the past. For me this reminds us of the importance of learning the lessons of that day so the world we live in is a safer and better place. That is how we honour the memory of all that was lost a decade ago and build a legacy for the future,'' Mayor Dalziel said.
That sentiment was echoed by Professor Maan Alkaisi, whose wife Maysoon died in the CTV building. He spoke on behalf of the Quake Families Trust and described the special bonds that have been established between the families over the past 10 years. 
Professor Alkaisi said most of those killed in the earthquake died as a result of building collapses, 95 per cent of which were avoidable.
"Today reminds us of our responsibility to make sure that we learn from this experience and honour those people we lost by ensuring …this will not happen again,'' Professor Alkaisi told the crowd.
At the end of the service wreaths were laid at the Memorial Wall while many in the crowd threw flowers into the Avon River in a symbol of remembrance.


More from the Council source here