We've reached maximum daylight hours, the weather's generally playing ball, and, with a bit of luck, you've found a new mountain bike under the Christmas tree to put some miles on.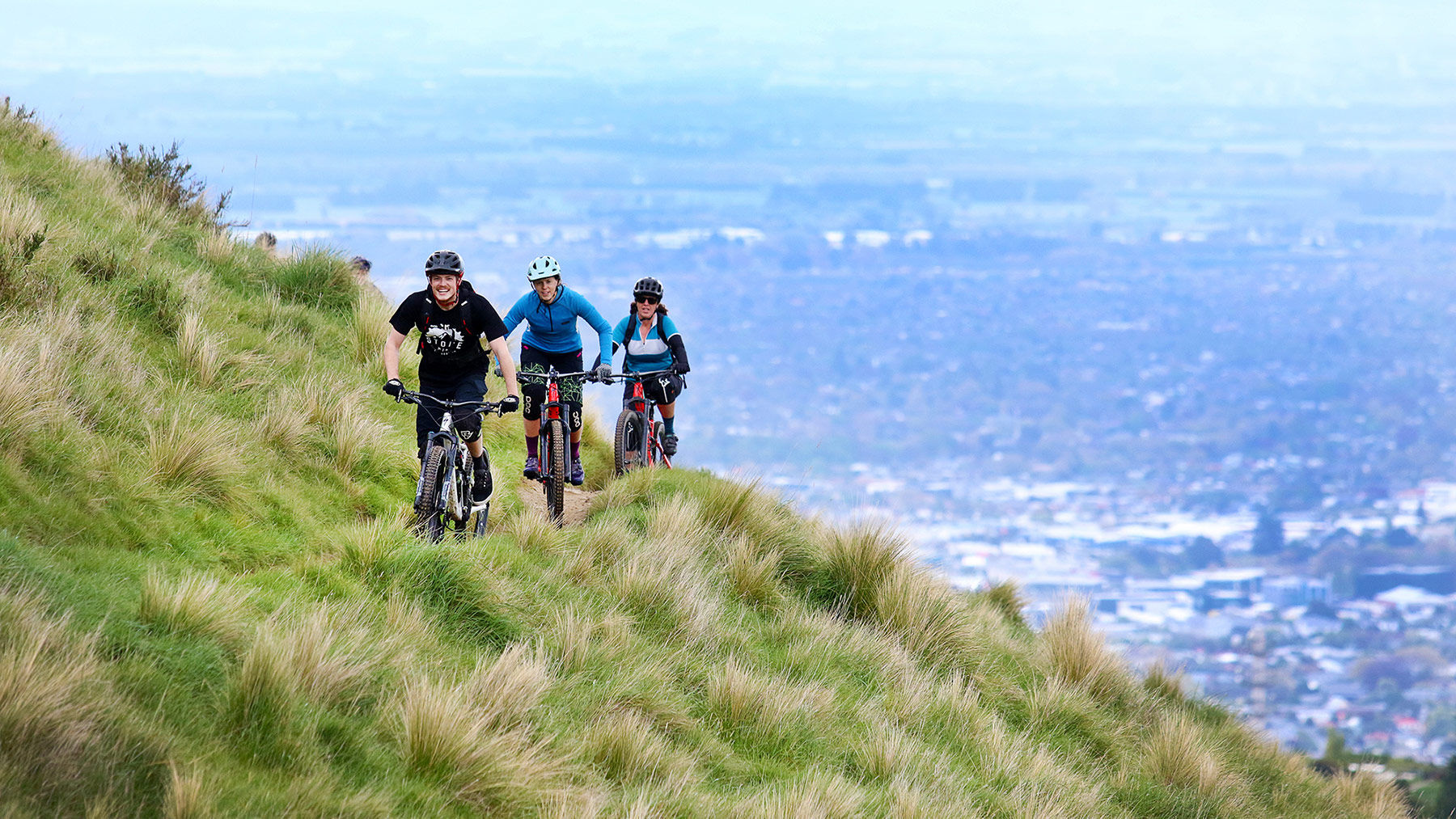 Christchurch is blessed with a huge network of trails within 15 minutes of the CBD. Greater Christchurch and the Port Hills are brimming with hundreds of kilometres of trails for all abilities, regardless of whether you're a novice or a professional downhill racer.
With such a vast network at your fingertips, it can be hard to know where to start, so we've highlighted some of our favourites.
Beginner trails
McLean's Island: The McLean's Island circuit, opposite Orana Park, is hugely popular with Christchurch families and is the perfect place for kids and first-timers to fall in love with mountain biking. The well-marked trails are largely flat and flow through juvenile and mature pine forests, making them enjoyable for all ages. An initial 10km circuit can be expanded with an additional 5km loop if you want to burn-off some additional Christmas ham.
Bottle Lake: Northeast of the city, the extensive Bottle Lake pine forest smothers coastal sand dunes, resulting in fast, rolling, well-draining trails that can be ridden all-year round. The 15km outer circuit takes in some great views of the Pacific Ocean, and although some of the short climbs might challenge little legs, Bottle Lake is ideal for building riding confidence. Note that Bottle Lake is a working pine forest and the trails can change regularly as areas are logged.
Intermediate trails
Crocodile Mountain Bike Park (Halswell Quarry): Over the past few years the Crocodile Mountain Bike Park has dramatically expanded its network of trails to cater to everyone. The staple 2km C2 short loop can be tackled by anyone with semi-moderate fitness and there's a myriad of ways to link the trails together for longer outings. For extra altitude, follow the single trail through the farmland to the short Siberia loop, or commit to the hour-long puff up Kennedy's Bush Track to the Summit Rd.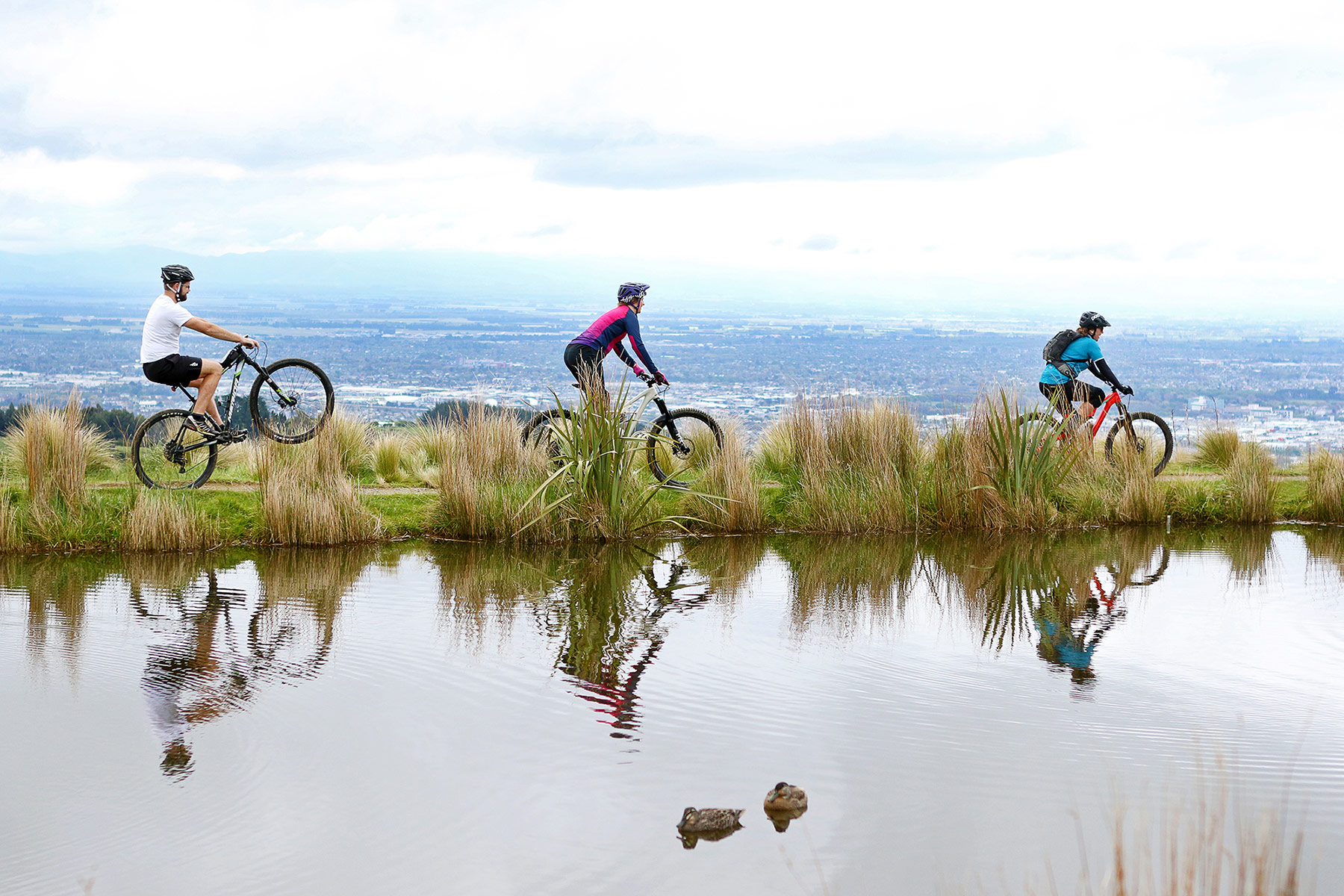 Rapaki and Bowenvale Traverse: If you're ready to expand your horizons it's time to tackle the Port Hills. The most popular route to the Summit Rd is up Rapaki Track (25-45 minutes). Halfway up you'll find the 3.5km Taramea circuit around Montgomery Spur, which that takes in great views over the city from the Alps to the ocean.
From the top of Rapaki, either plug your way over Mt Vernon or take the Summit Rd to the Bowenvale Traverse. With its gravel base, great views and flowing nature, the Traverse is popular with both riders and walkers; stay mindful of others as it's designed to be used in both directions. Return to the city either via Dyer's Pass Rd or by testing your skills on some easier Victoria Park downhill trails, (Sesame St, Gum Trees, Shazzas and Brents) to finish at Bowenvale Ave.
Honourable mention – Godley Head: This is a great ride with amazing views across the ocean and Lyttelton Harbour. From the top of Evans Pass Rd, follow the 7km Godley Head trail east across sprawling tussock farmland until it meets the Summit Rd. Crossing the road will see you dive into the swooping, grin-inducing Anaconda trail that snakes its way down to Taylor's Mistake.
Advanced trails
Victoria Park: If you're more confident on the bike and ready to push yourself with steeper, technical descents, rock gardens, jumps and drops, you'll find everything you could dream of in Victoria Park. The dense network of trails can be initially overwhelming, but with time you'll find plenty of favourites that'll have you huffing up the 4WD tracks for another run. If you want air under your wheels, try some laps of Cool Runnings or RadSick. To get steeper and more technical, drop into Dazzas, Fenceline or Sneaky Ridge.
New Bowenvale Downhill: At 3km this is the longest downhill trail in the Port Hills, and recent work to minimise the use of the old farm track has turned it into a firm local favourite. Peeling off the Bowenvale Traverse track, the first half is loaded with fast sections, jumps, tricky rock off-cambers and drops. It mellows out after joining another trail (Bowenvale Bonus), but the combination of technical, high-speed rock sections and tight corners will keep you on your toes and a smile on your face long after you've exited onto Bowenvale Ave.
Expert trails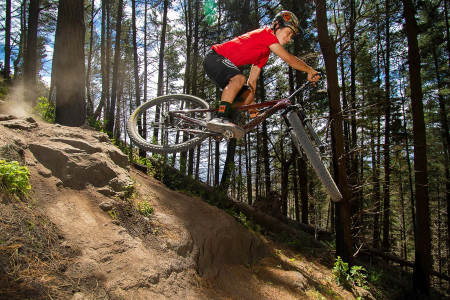 Victoria Park: Fancy yourself as a bit of a downhill gun, and have the gear to back it up? Head to Victoria Park and revel in the steepest, rocky, root-infested trails you can hunt out. Old and New Nationals, Pedal Fine, Tilted Sally and Radi Garden will satisfy your deepest gravity-fuelled cravings, and because the trails are relatively short and sharp, it only takes 10 to 20 minutes to climb to the top of Vic Park for another run.
Gnarly Nun: Off-camber, steep and brimming with rock gardens and drops, the Gnarly Nun is the evil sibling of one of Christchurch's most famous trails, the Flying Nun. The two tracks start at the top of Worsleys Rd, but where the Flying Nun zig-zags down Marley's Hill, the Gnarly Nun drops much faster; the obstacles come thick and fast and will elevate your pulse from start to finish. Just don't get too distracted by the beautiful views into Lyttelton Harbour below.
Christchurch Adventure Park
The Christchurch Adventure Park now houses 30 chairlift-accessible trails that cater to everyone. Regardless of whether you prefer gentle machine-built trails, jumps or gnarly steeps, you'll certainly find a new favourite.
The Adventure Park's trail board is listed in order of difficulty, from beginner (green), through to intermediate (blue), advanced (black) and expert (double black).  The chairlift means you maximise the amount of downhill fun without the grind of climbing, although the free uphill trail is available if you want to work up a real sweat-up.
Once you've had your fill of riding trails, kick back in the sweeping café deck with a coffee, beverage, and some great food.


More from the Council source here