Over 20 dynamic and innovative lighting installations, projections, and illuminated art works will 'bring the light' to Victoria Square from 5pm to 10pm, Friday 7 July to Saturday 15 July, for all ages to enjoy.
Once again, the lighting festival will feature lively fire shows on the Friday and Saturday nights, from 8pm to 9pm at Te Atamira Performance Zone in The Commons (7–8 July and 14–15 July).
Another hot spot on the weekends (including Sunday 9 July) is the Mitre 10 Mega Kā Pakiwaitara Storytelling Zone, which comes to life between 6pm and 8pm by the floral clock.
Christchurch City Council Manager of Events and Arts Lucy Blackmore says the storytelling is a popular zone each year and, for the first time this year, will include kapa haka performances.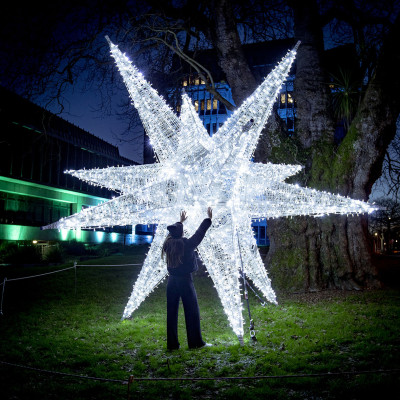 "We encourage people to come out for these incredible shows and experience everything Tīrama Mai has to offer," Ms Blackmore says. "On evenings without live storytelling, we have recordings playing at the Storytelling Zone that people can also enjoy."
Maatakiwi Wakefield, who leads the live sessions alongside Justice-Manawanui Arahanga-Pryor says the storytelling is fun and interactive but with something to learn for everyone.
"Our stories are based on the kōrero of Ahorangi (Professor) Rangi Mātāmua, with local mātauranga Māori (Māori knowledge) thrown in," Maatakiwi says. "This year, we'll also be joined by some of our own whānau for a bit of a sing-along.
"Matariki is a uniquely Aotearoa holiday, and last year, it was so special to see many generations of whānau coming to Tīrama Mai to celebrate it," Maatakiwi says. "It's a time for whānau of all generations and friends to come together and share kai (food) and stories."
The place to eat and share kai is the Taiwhaka Kai Food Zone, where a range of food trucks will be on site every night, supporting the festivities.
Check out the event details, including a map of installations, for Tīrama Mai here. For information on all the latest Puaka-Matariki events, see What's On.