Early Chinese laundries feature in a new gallery of story panels that captures the history of Victoria Street.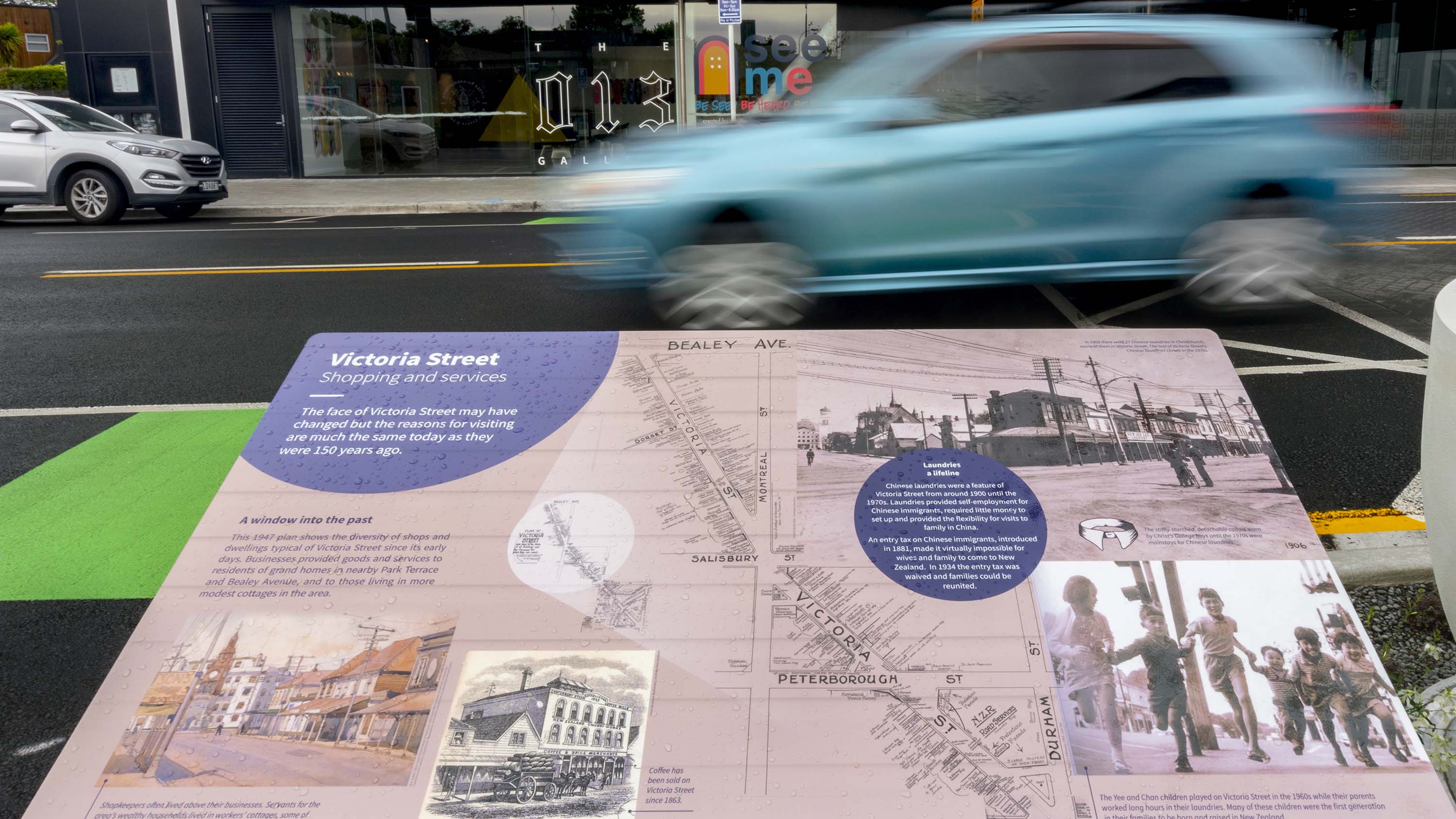 Dotted along the busy thoroughfare to the central city, the panels share stories from the past, providing a narrative on significant buildings and landmark structures.
Christchurch City Council Transport Planning and Delivery Manager Lynette Ellis says that much of the history of Victoria Street "is hiding in plain sight".
"The new multi-panel gallery explores the street's background, providing insight into early Christchurch and several high-profile local businesses," Ms Ellis says.
"They help identify more about where we are and also where we have been.
"We can learn as we walk along the street, sharing in those snapshots of history."
Among the panels are an "amusing 1947 assessment of the state of the street's buildings".
One panel details how Victoria Street followed the traditional Ngāi Tahu route out of the city while another explores the early inner city flats, including the Art Deco building Santa Barbara.
The heritage story also covers a period from the early 20th century when Victoria Street was home to several laundries run by Chinese New Zealanders.
These provided specialist services, including the all-important starched collar of the period.
Additional panels will later focus on the Caxton Press, the Victoria Tower and the story of the post-earthquake reconstruction of Knox Church.
Ngāi Tahu carver Fayne Robinson has also designed a paving pattern for Victoria Street.
The design incorporates the "aromoana" pattern, which translates as "the pathway to the sea".
Meanwhile, special decorative elements in Hereford Street include patterns along the central city footpath representing the streams that used to flow through the area, along with the Pūkeko footprints as the birds wandered beside the water.
Based on the Waewae Pākura triple-notch pattern, the designs also form a knot – symbolising turbulence in the streams – at the street's pedestrian crossing points.
A display near Strand Lane in Hereford Street will provide information on the designs.


More from the Council source here