When Paul and Shirley Watson moved south from Wellington they wanted to build themselves a forever home that would be cheap to run and comfortable to live in as they got older.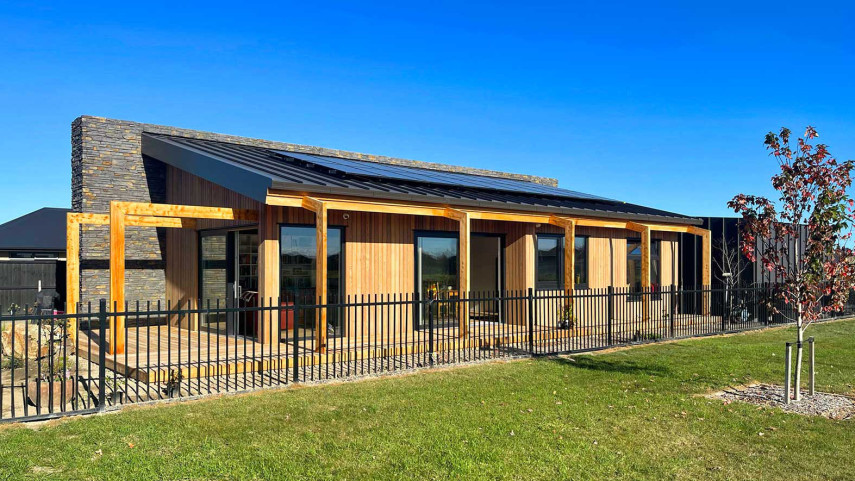 So instead of buying a standard new home, they chose to build a single-storey 'superhome' that maximises natural solar gain through large triple-glazed windows, uses passive housing technology, and has a natural rainwater collection system.
It is a decision the couple have not once regretted.
"Our home is so light, warm and functional. This is our forever home. We have told our boys they will be taking us out of here in a box,'' says Mr Watson.
"I am a registered nurse with an interest in child and family health so I am very aware of the health consequences of poor housing, which unfortunately is most of New Zealand's housing stock, even most new houses.
"It makes no sense to continue to build code-minimum houses that are cold and expensive to heat. If all houses were built like ours, families would be living in warm dry houses that are cheap to run.''
This weekend the Watsons are opening their Prebbleton home to the public as part of a self-guided tours organised by the Superhome Movement Charitable Trust
The tour, between 10am and 4pm, Saturday 24 September and Sunday 25 September, gives people the opportunity to visit eight Superhomes within the greater Christchurch area that are super-insulated and use the sun to stay warm and dry in winter and utilise shading and thermal mass to keep cool in summer.
Owners, builders and designers will be on hand to explain the features of each home and to answer any questions to help people to more easily create their own superhome.
Learn more about the Superhome Tour and how to get tickets.
Christchurch City Council Climate Resilience Lead Tony Moore says the Superhome Tour is a great opportunity for people to experience high-performing homes that are warm, dry and have low running costs.
"This experience, combined with the sound, expert advice provided in each home, is a powerful combination for residents to make informed choices about the health and efficiency of their homes.
"The Superhome Movement tours have been running for several years now they have been the most successful way to engage the public on sustainable homes," says Mr Moore.
"The Superhome Tour is the opportunity to experience first-hand thoughtfully designed, sustainable, warm and comfortable homes. Healthy for people and healthy for the planet,'' says architect Bob Burnett, who co-founded the Superhome Movement.
"Homes like these are rarely available for viewing because most showhomes only meet the outdated minimum standard of NZ building Code. In contrast, Superhomes align with international best practice."