A plan to improve the safety of a busy Cashmere intersection at the base of the Port Hills is now open for public feedback.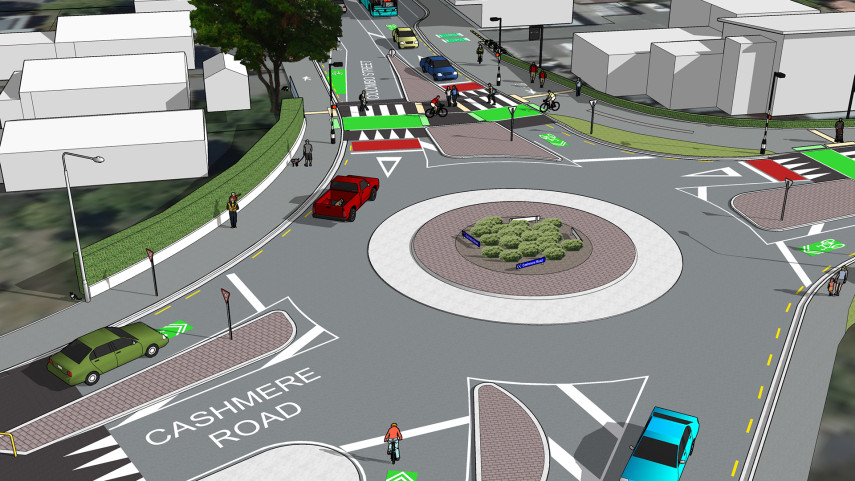 Under the plan, raised safety platforms with pedestrian crossing points will be installed at all four approaches to the roundabout at the intersection of Colombo St, Cashmere,  Centaurus and Dyers Pass roads.
The raised platforms will help to slow traffic and therefore reduce the risk of collisions and the severity of a crash if one occurs.
Christchurch City Council is also planning to:
Narrow the road width approaching the roundabout and install sharrow markings to indicate that cyclists and vehicles share the lane.
Widen the existing pedestrian refuge islands and add Zebra pedestrian and cycle crossings on Colombo Street and Centaurus Road to create safer crossing points.
Build out the kerb on the corner of Colombo Street and Centaurus Road to slow vehicles turning left into Centaurus Road and provide space for landscaping.
Build out the kerb on Dyers Pass and Cashmere Road to slow vehicles turning left into Cashmere Road.
Add a concrete lip around the centre of the roundabout to reduce the speed of people travelling in the roundabout.
Remove about four carparks to create room for the planned changes.
Council Transport Operations Manager Stephen Wright says the intersection of Cashmere, Colombo, Centaurus and Dyers Pass roads is heavily used by people catching the bus, cycling, driving and walking, including school-aged children from nearby Thorrington Primary and Cashmere High schools.
"There have been a number of injury crashes at the intersection involving people travelling by bicycle and motorcycle so we're proposing changes to make it way safer for everyone,'' Mr Wright says.
A number of buses pass through the intersection, including the popular Orbiter. However, bus stops are located some distance apart, which makes transferring between bus routes difficult.
To address this, the Council is proposing two new bus stops. The stops are proposed to be located:
In the current parking bay outside 5 Centaurus Road. This location will include a bus shelter.
Opposite 7 Centaurus Road. At this location, the bus will stop in lane.
"The improvements we are proposing are designed to help ensure everyone can get where they are going safely – whether they're walking, busing, biking or driving,'' says Mr Wright.
People can have their say on the proposed safety improvements until 14 December.