New Regent Street will light up each night, highlighting the heritage facades and attracting more people to the city's landmark street.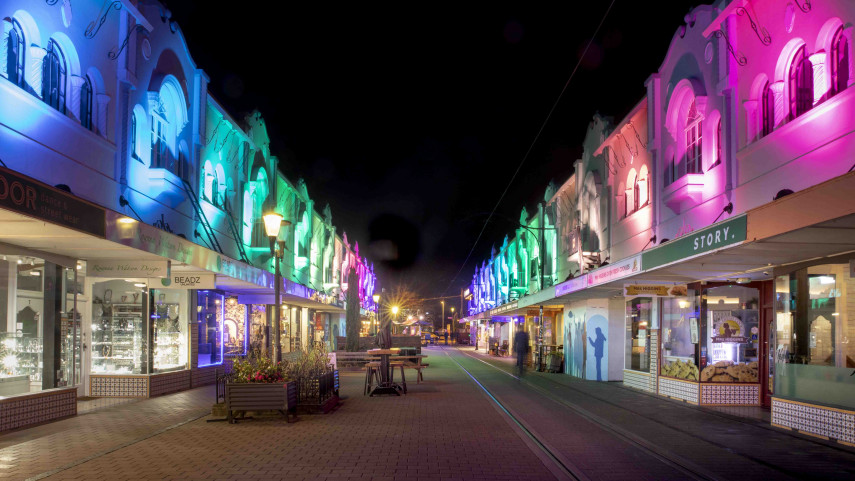 The permanent lighting installation spotlights the unique building features following a successful trial run last winter as part of the one-off CHCH is LIT event.
Thousands of people poured into the street last year, with an overwhelmingly positive response to the colourful outdoor installation.
The property owners and local business community are key project partners and will be responsible for maintenance and ongoing power costs for the new display following initial design and installation support from Christchurch City Council.
Council Head of Urban Design, Regeneration & Heritage Carolyn Ingles says the permanent display creates a safer and more attractive space so that more people can explore New Regent Street and the wider arts-focused area at night.
"The Council's Central City Action Plan supports small scale lighting projects, and reconnection with all that's on offer, encouraging people to come back to the city," she says.
"Lighting up our treasured heritage street brings a whole new energy and vibrancy to a much-loved area of our city, focusing on our amazing architecture and encouraging more people to visit and share this special space in our city.
"The new installation – transforming the street through light and colour – is integral to Christchurch's inaugural Tīrama Mai lighting event celebrating Matariki in the heart of the city."
Tīrama Mai – on until 10 July – celebrates Matariki with a series of lighting installations, projections and illuminated artworks in the central city and New Brighton.


More from the Council source here