Pedestrian safety is behind changes to restrict goods vehicle access along Oxford Terrace and Cashel Street.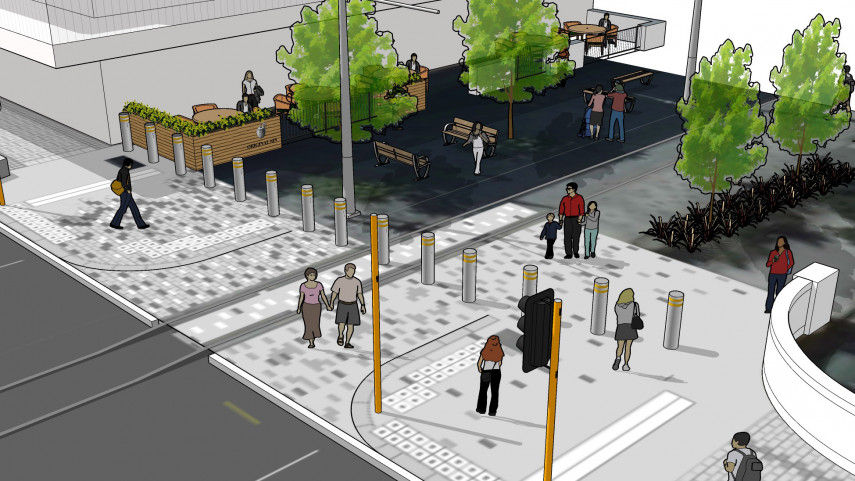 New bollards will be installed, starting from this Sunday, at the Hereford Street end of Oxford Terrace to stop vehicles entering the busy pedestrian area outside of permitted times. 
Earlier this year Council consulted on changes to the traffic rules and access times for deliveries in City Mall, from Cashel Street's intersection with Oxford Terrace to its intersection with High Street, and including High Street between Cashel Street and Hereford Street.
Councillors decided to restrict goods vehicle access to between 5am and 10am in the morning and between 4pm and 5pm in the afternoon, and reduce the speed limit to 10 km/h.
"With so many bars and restaurants along Oxford Terrace, and so many people enjoying the retail on Cashel Street you often get people milling and socialising in the area, so we need to create a safe and enjoyable space for pedestrians,'' says Christchurch City Council Acting Head of Transport Lynette Ellis.
"With the bollards in place, we will have a physical means of stopping illegal vehicle movements outside of access times.
"For safety reasons, and with the support of the Police, the Council has chosen to install bollards that are capable of stopping vehicles that are being driven at high speeds."
The bollards, which cost $1.1 million, stand about one metre tall and three of the 14 bollards will be automated and retractable so that trams and emergency vehicles can still travel along Oxford Terrace when the access restrictions are operating.  
Installing the bollards will take about seven weeks and involve digging beneath the tram tracks on Oxford Terrace, inserting steel reinforcing, and putting in place telecommunications equipment that will allow the tram and emergency services to lower the retractable bollards.
The retractable bollards will be lowered from 5am to 10am and from 4pm to 5pm each day so that delivery vehicles can get to the businesses along Oxford Terrace and City Mall.
The retractable bollards will have a back-up power source so they can still be operated even if there is an electricity network outage.
"We have worked in partnership with the emergency services and nearby businesses on the plans for the bollards and they are very supportive of this safety initiative,'' Ms Ellis says.
"For three weeks during the installation period the trams will be unable to run on this loop. We are going to use this down-time to do other works on, or near, the tramway along High Street,'' Ms Ellis says.
Service vehicles making deliveries to businesses along Oxford Terrace will need to take an alternate route while the bollards are being installed.


More from the Council source here