A fun new hoarding erected around Christ Church Cathedral is giving people a glimpse of the building's past and its future.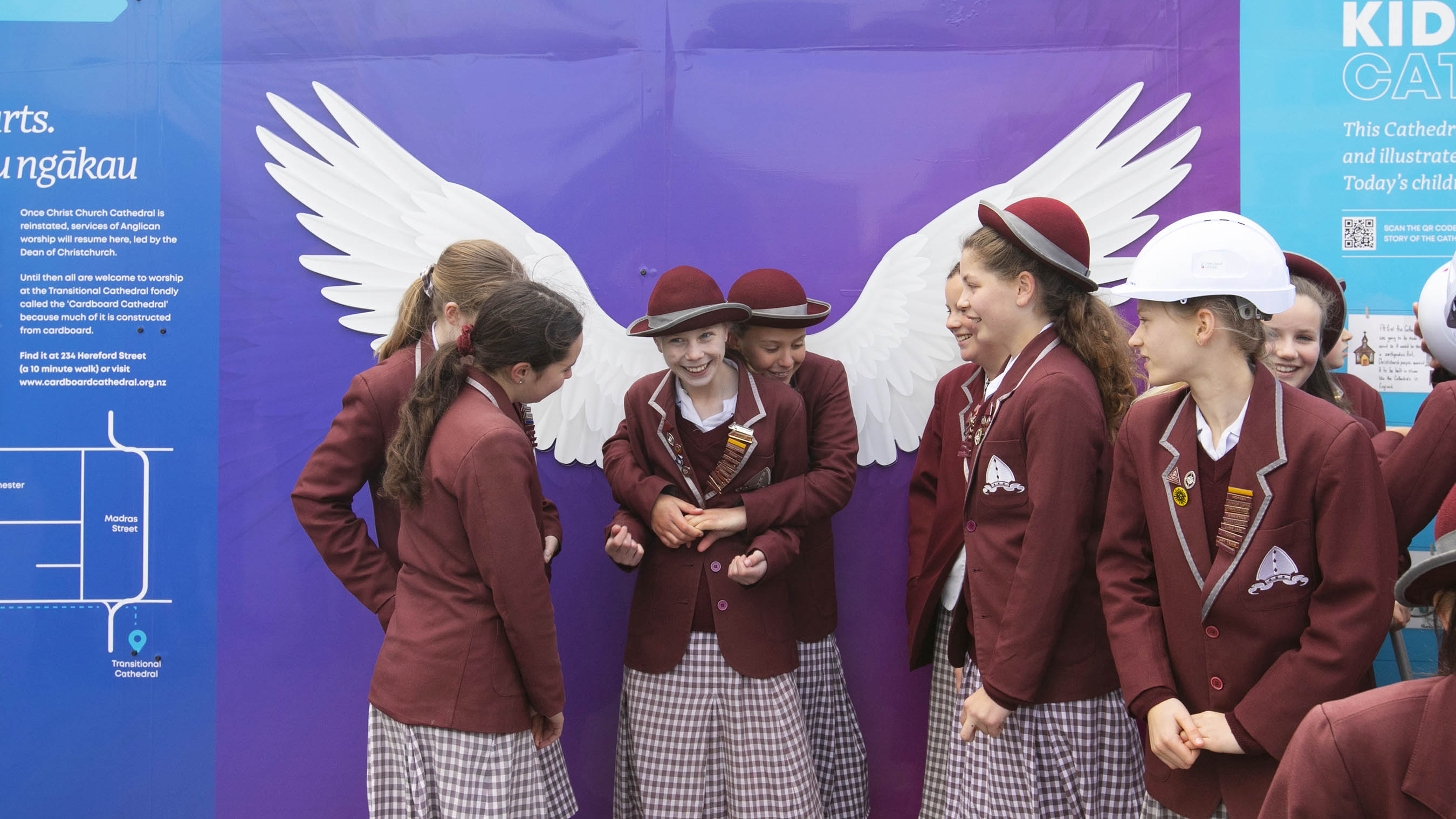 The new 58-metre long fencing information panels have been installed over the past few days and were officially 'unveiled' earlier today.
Dean of Christchurch Lawrence Kimberley says the panels are intended to inform and delight people of all ages.
"The panels tell some of the rich story of the Cathedral and explain what's involved in the project.  People will be able to touch some genuine Cathedral stone and wood, and if they are lucky, they just might hear people from the Cathedral's past whispering their stories.
"We also encourage people to take a selfie with the giant set of angel wings, fun for both children and adults," says Dean Lawrence. 
People will be able to view the project through some 'stained-glass' Perspex that calls to mind the Cathedral's Rose Window.  The original Rose Window will be fully restored as part of the project to reinstate the Cathedral, using recovered stained glass where possible.
There is something for everyone, including child-friendly information, illustrated by children from The Cathedral Grammar School.
Sophie, a Year 7 pupil at the school, was christened in the old Cathedral  and enjoyed doing a drawing for the hoarding.
"Repairing the Cathedral is important because it's something that means a lot to the whole of Christchurch and it is part of who we are,'' says Sophie. "I enjoyed listening to all the different facts about the Cathedral and seeing how the different members of my class interpreted these facts to mean something special to them.''
For Year 4 pupil Evelyn it was learning that the "kitties all got homes" that she liked.
"It was enjoyable finding out about odd little stories to do with the cathedral's life and seeing how everyone's pictures related to their part of the story."
Art teacher Jude Gray says they were very excited to be invited to collaborate on the project.
"It was particularly fitting this year as it coincides with the launch of our girl choristers in the Transitional Cathedral, many of whom have designed the artworks on the hoarding. It has been a really enjoyable way for the girls to connect to, and learn more about the history of, our original Cathedral in the lead up to its restoration."
The hoarding adds colour and interest to Cathedral Square and can also be viewed 'virtually' on the project website. Elements of the signage, particularly where they cover ongoing site activity, will be updated regularly.
Christchurch City Councillor Yani Johanson, who attended this morning's unveiling, says it is great that people can get a glimpse of what is happening on the Cathedral reinstatement project in an appealing and engaging way.


More from the Council source here