A new pink, green and yellow coloured basketball court is designed to encourage girls to feel comfortable using and enjoying the court space.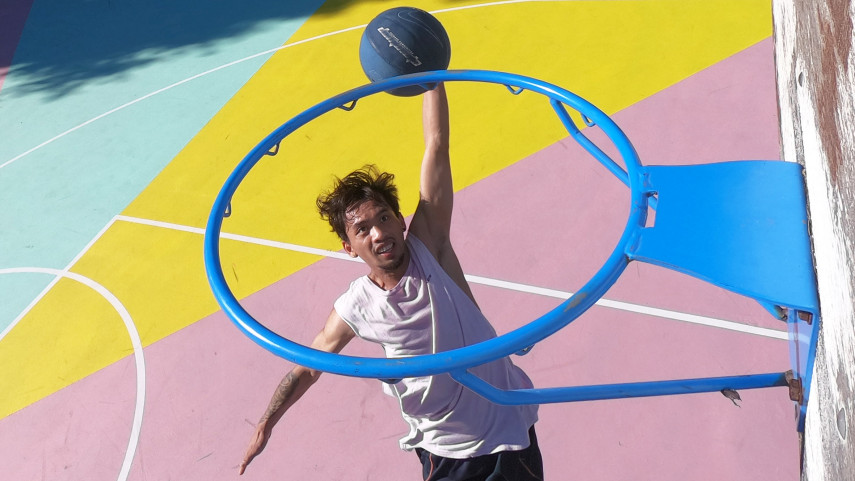 Branston Park basketball court in Hornby has been upgraded in a joint partnership between Christchurch City Council, Waipuna Halswell-Hornby-Riccarton Community Board and the Wharenui Gators basketball club.
The idea for the colourful surface came about after discussions with a local school group suggested boys can often take over the court and some of the girls felt this was a barrier for them to join in and play.
Board Chair Mike Mora said there was strong support for the idea of trialling a brightly coloured court to see if it encouraged more girls to enjoy the space.  
"It looks fantastic, we're really pleased with the result and we're getting positive feedback from the local community who say they love how it looks. It shows what can be achieved when we work as a team."
With the $40,000 project budget only covering the cost of asphalt renewal, Wharenui Gators fundraised to cover the $13,000 for the painted surface.
Hornby Rotary Club gave $7,500 towards the cost and the Board covered the remaining $5,500 with an allocation from its Discretionary Response Fund.
"The colour green was chosen to represent the basketball club, yellow to represent rotary and pink as a complimentary bright colour to enhance the court's appeal," says Mr Mora.
Wharenui Gators plan to host events at the court aimed at activating girls' interest in basketball over the coming months.