Eighteen groups and individuals from a diverse range of backgrounds have received Civic Awards in recognition of the outstanding contribution they make to Christchurch.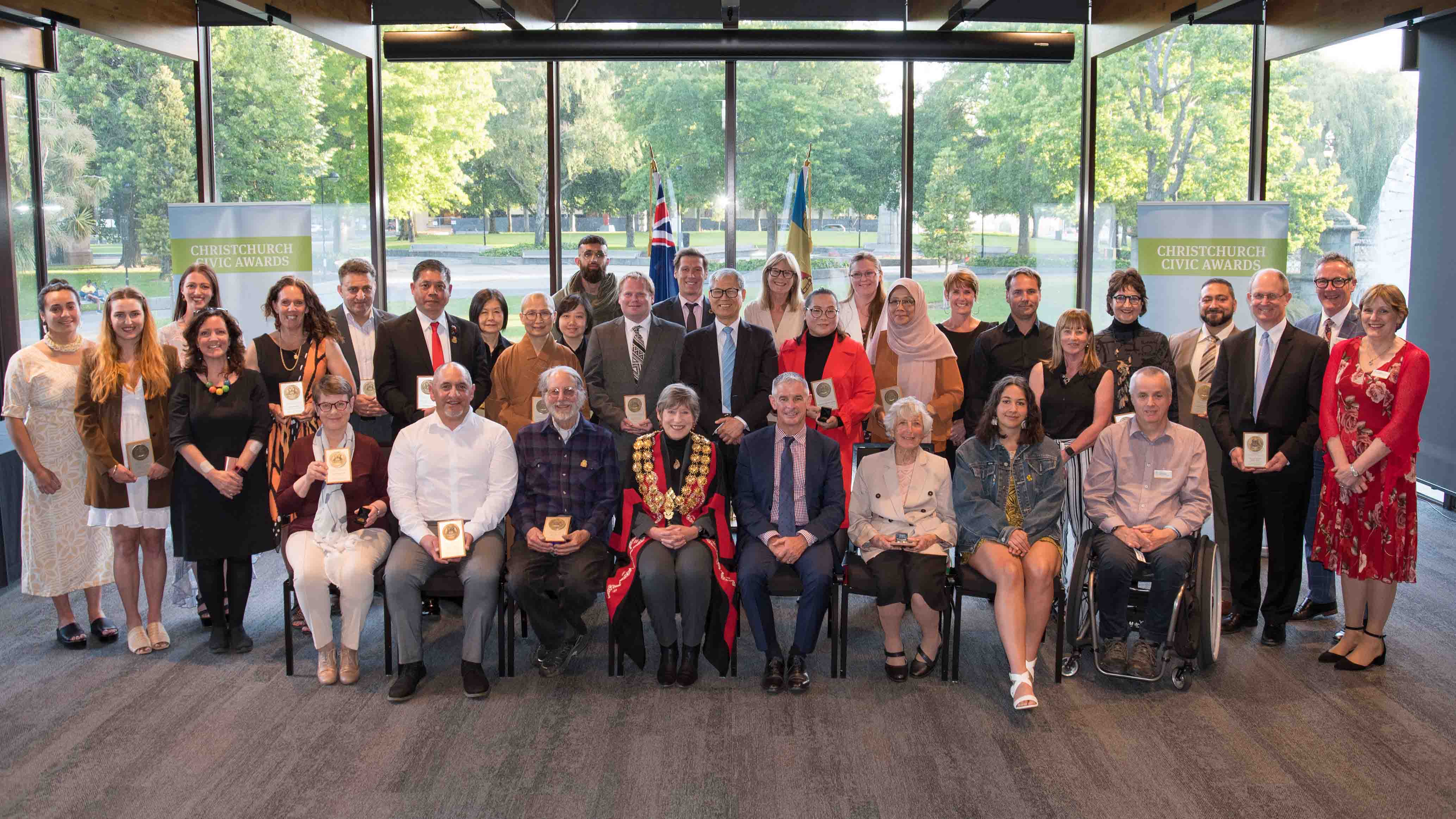 The awards were presented by Mayor Lianne Dalziel at a special ceremony at the Christchurch Town Hall on Tuesday night.
"It was a great honour for me to present the recipients with the Civic Awards because they have given back so much to their respective communities and deserve to have their contribution formally recognised by the city. What I love about these awards is that the nominations come from the community itself. It's a real mark of the standing of these individuals and groups and the gratitude we all feel when we hear these incredible stories of service.
"In some cases the recipients have been devoting their time and energy to helping others for decades. They come from very diverse backgrounds but they are united in their commitment to helping others. Others were recognised with an Emerging Leader Award – which is a special category of Civic Award.
"This is to offer encouragement to those who have demonstrated their commitment to stepping up in times of need, and who have much more to give."
The Mayor presented Civic Awards to:
Sardar Faisal Abbas: A community leader, Sardar Faisal Abbas has literally gone into bat for the wider Muslim communities, uniting people of all ages through cricket, developing a club and putting together an indoor tournament that has brought together teams from multiple backgrounds.
The Conscious Club: On a mission to raise awareness over environmental and ethical issues facing the world today, The Conscious Club promotes a sustainable and ethical lifestyle via an array of initiatives, events and markets, focusing on diversity, inclusivity and guardianship.
Dirk De Lu: A strong advocate for the cycling community, Dirk De Lu is an executive member of Spokes Canterbury and a founding member of Christchurch's first community bike workshop, ICECycles, who promotes healthy and sustainable living and focuses on environmental issues.
The Fo Guang Shan Temple: The temple promotes well-being, harmony and inter-cultural understanding, working with the Meals-on-Wheels service, and also the NZ Police and local schools to organise cultural festivals, along with various initiatives and support in times of community need.
June Goldstein: A strong supporter of young people and the arts community, June Goldstein held various roles, serving on the boards of the YMCA and the Civic Trust and committing her skills and energy to supporting The Court Theatre and the Christchurch Art Gallery for many years.
Marianne Hargreaves: For more than 40 years, advocate for the arts Marianne Hargreaves has taken on several music festival roles, been an arts adviser and managed the local WORD festival, along with strongly supporting the Christchurch Art Gallery and the Canterbury Embroiderers' Guild.
Jumayah Haji Ahmad-Jones: A member of the Council's Multicultural Advisory Group, community supporter Jumayah Haji Ahmad-Jones has helped establish the Nawawi Centre, a Muslim organisation that aims to build a stronger community, and has been involved in various initiatives to support women and children.
Karlena Kelliher and Sands Canterbury: A member of Sands Canterbury for 10 years and Chairperson for the last eight, Karlena Kelliher has given countless hours to helping those who have lost a baby. She prepares and provides up to 50 care packages and memory boxes per month and listens to those wanting to talk about their loss.
George Lajpold: Working with multiple organisations, advocate for change George Lajpold has driven home the importance of sport in tackling alcohol-related antisocial behaviour, ensuring that community well-being starts on the sidelines and transforming the local sporting landscape.
Stephen Ma: Originally from the Guangzhou Province in China, Stephen Ma has worked tirelessly over the past three decades to promote multiculturalism and to strengthen the ties between New Zealand and China.
Stephen McPaike: An advocate for quality social housing, Stephen McPaike has been vocal in pushing for the installation of heat pumps in social housing units. Despite working full-time and caring for a seven-year-old, he is always prepared to lend a helping hand to fellow tenants.
The New Zealand Spinal Trust: Working out of the Burwood Spinal Unit, the New Zealand Spinal Trust provides services and programmes free to charge to anyone suffering from a spinal cord injury. It is recognised as a world leader in its field and is committed to improving the quality of rehabilitation and helping those with spinal cord injuries to live independently.
Maria Romero: Through her efforts Maria Romero educates children about monarch butterflies and the crucial role they play in the ecosystem. She set up the Butterfly Musketeers in 2013 and travels throughout New Zealand from late spring to early autumn teaching people about butterflies and their importance to our food chain.
Bariz Shah: After coming to New Zealand as a refugee, Bariz Shah has dedicated his life to others and is an outstanding leader in his community. He has been involved in numerous programmes and initiatives aimed at empowering young people. He has established the Good Addict charity organisation, and self defence classes for women and children who felt vulnerable after the mosque attacks.
Margaret Sharkey and Allan Pritchard:  Margaret and Allan established the WanderSearch Canterbury Charitable Trust. The trust runs a tracking device loan bank that enables anyone who cares for a loved one with a cognitive impairment, such as dementia, that means they may wander away, to track their location, regardless of their ability to pay.
Noeline Tennant: A loyal member of SPELD NZ since the late 1970s, Noeline Tennant has helped countless Cantabrians and other New Zealanders to overcome their dyslexia.
Kalim Ullah: As president of the Pakistan Association, Kalim Ullah was an invaluable help to families impacted by the mosque attacks. He made sure that victims of the attacks had food, accommodation, transport and money and proved himself a pillar of his community.
Honghuan (Wendy) Zhang: An active and energetic teacher of Chinese culture, language and the performing arts, Wendy Zhang has also set up a community service hub to help new migrants who need help settling into their new home. She is heavily involved in victim support for Chinese travellers and tourists who have accidents while in our country.