The temperatures outside may be climbing but there will be a Chill in the City this week.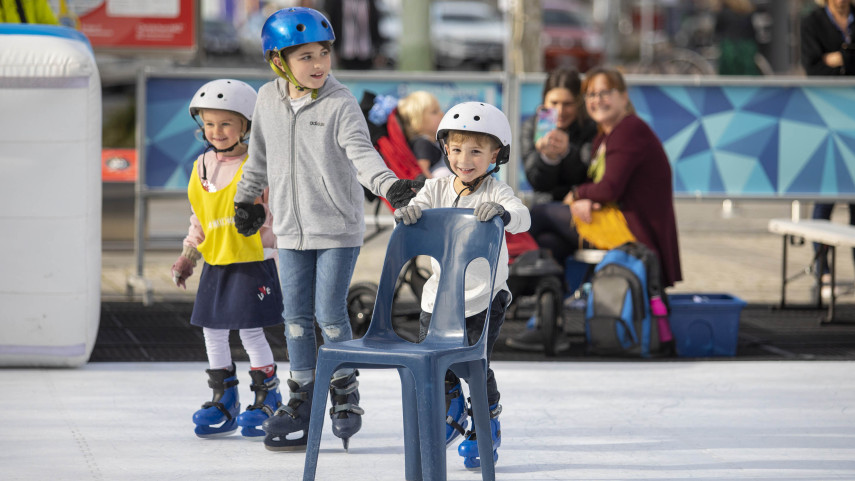 Chill in the City is Christchurch's winter festival. It offers people a chance to enjoy winter activities including ice-skating and tobogganing in the heart of the city.
It is organised by the Central City Business Association (CCBA) and starts on Thursday 4 August at 10am with the opening of an ice skating rink at the corner of Cashel and High streets, in City Mall.
"We want people to come along and experience all that the city has to offer this winter. Whether you're looking to get your skates on or want to take in the sights of Scott Base with new hi-def 3D technology, there is something for everyone," says CCBA Chair Annabel Turley.
"You can toboggan on real snow at the Riverside Market or bounce around on Disney's Frozen Bouncy Castle in front of the Bridge of Remembrance. It's the perfect time to explore all the city has to offer including the shops, bars, restaurants and laneways".
Christchurch City Council Head of City Growth and Property Bruce Rendall says Chill in the City is a great way to encourage families into the central city during winter.
"It gives families an added incentive to come into town and they can check out some of the amazing shops, cafes and restaurants in the central city as well,'' Mr Rendall says.
The ice skating costs $5 for a half hour session while a gold coin donation will be requested for a hug with the Huskies. All the money raised will go to the City Mission. The taboggon rides, bouncy castle and Scott Base 3D experience will be free. 
Helmets and gloves are essential for the ice skating. Some will be available at the rink, but it is recommend your bring your own. In the instance of wet weather, the ice rink will be located on the ground floor of The Terrace carpark building, located on Hereford Street. 
Chill in the City is just one of the events being offered as part of the Turn Up The Heat festival. See what else is on offer.