Christchurch City Council is looking at how it can improve the safety and biodiversity of the Addington Brook waterway that runs through South Hagley Park.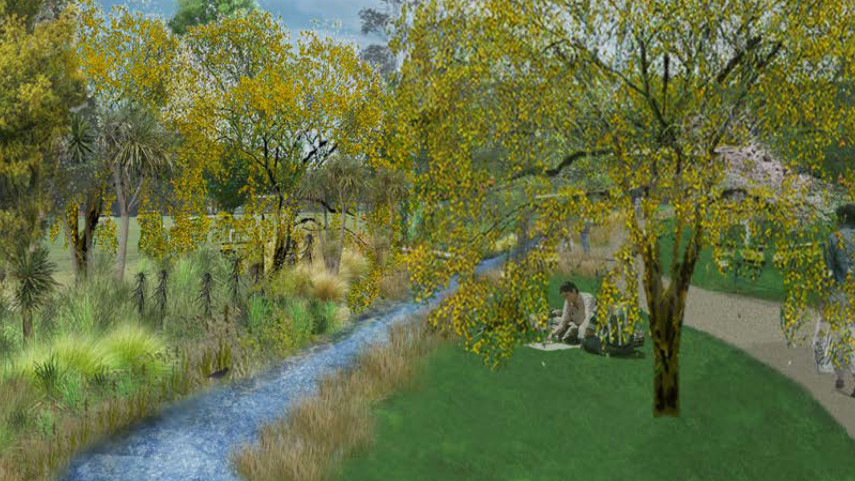 The waterway stretches from Deans Avenue through to Riccarton Road but it is in a poor condition. 
Most of the timber that once lined the steep banks of the brook has rotted away and there are clear signs of slumping and undercutting. In some spots, water has scoured out the roots of trees planted alongside the brook, challenging their stability.
Other trees are growing in inappropriate place, including in the brook itself, which is adding to the problems with the waterway.
There are also safety concerns about having an overgrown, open waterway in an area heavily used by pedestrians and cyclists.
To address all these issues, Council staff are bringing a report to the 23 November Council meeting that recommends the Council approve a masterplan for enhancing Addington Brook and improving its safety.
Under the masterplan, the banks of the brook will be flattened and stabilised and native riparian strips added to either side of the waterway to make it more distinguishable to park users.
The improvement work, if approved, will necessitate the removal of 45 trees from South Hagley Park and the transplantation of 20 others. In accordance with the Council's tree policy, each removed tree will be replaced by a minimum of two others.
The proposed native planted riparian strips will use a mix of shading plants directly by the water's edge, as well as significant planting of native trees to improve shading, reduce the amount of leaf fall into the waterway and to fill any gaps left in the existing canopy cover due to the project works.
The provision of some native canopy should lead to more bird species in South Hagley Park.
Read the report on the Addington Brook Waterway Renewal Masterplan.